Graduate high school, go to University, get a degree, get a corporate job, and retire.
That's the cycle of financial life that's drilled into us from early on. It's forced on us that somehow, what I mentioned above is the "ideal" life.
To me, that just looks like the easiest ticket to living from paycheck to paycheck. You see, back when this whole "model" was invented, times were different, life was different, the economy was different.
 Back then, only one member of the family had to work and that paycheck could support multiple children, buying a house and all the things that make up the "modern life." Fast forward to 2016, and even with two breadwinners it may be hard to pull off supporting children, education, mortgage, car payments and still find money to take a vacation every year.
This sort of thing can be daunting for you and me because it seems like our options are limited, and we don't necessarily want to live the same life our parents lived. (Mom, if you're reading this I love you, but it's true. But you already know that, lol.)
So what do we do? We have to find creative ways to earn money, either on the side or as a full-time, that pays us the wages we want AS WELL AS gives us the freedom that we desire. Contrary to what the media sells you, money isn't the biggest asset in life, it's time. [Tweet This ]
And trust me, if your side hustle takes off – you might just be able to walk away from your job and make money doing something that gives you both time AND money to spend. How cool is that?
Let's break down the whole concept of the term "side hustle," how you can get one and the possibilities that can be yours from starting a side hustle, so you don't think I'm a crazy woman trying to send you into bankruptcy.
First, a side hustle is a…
In the most basic sense – a side hustle is a "job on the side". But, there's nothing fun, cool or even remotely scalable about a definition like that, so here's what a side hustle is according to The Femme Agenda:
"A side hustle is a passion that you work on in your free time from your job (or schooling) that produces revenue and eventually becomes a sustainable business."
Try that one on for size. It should be a little clearer now why a side-hustle is something that's necessary right now. Don't think you have enough time? Check out this infographic: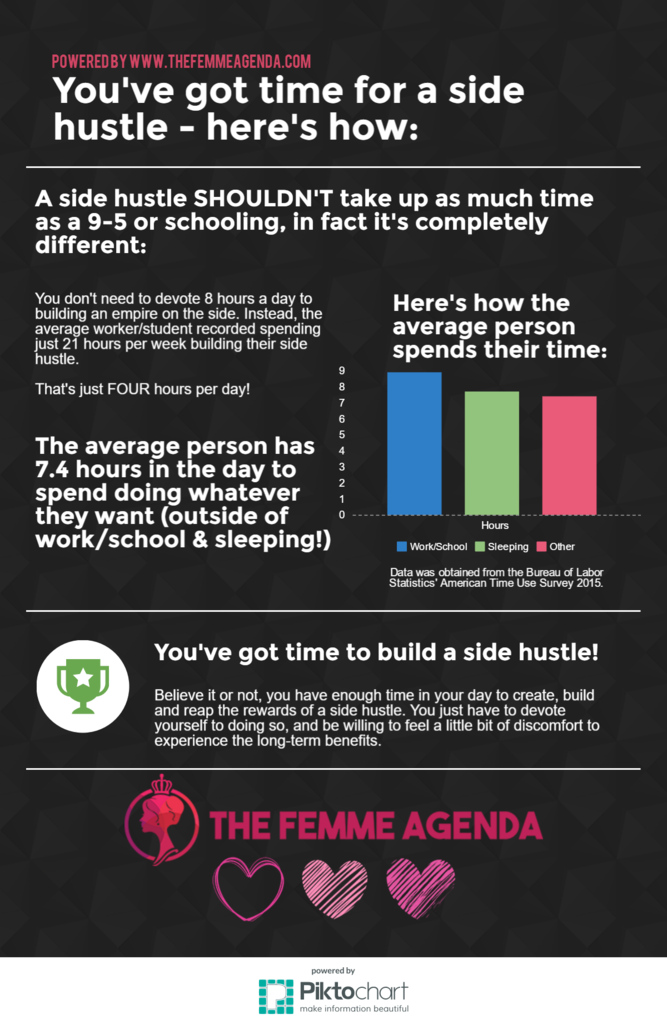 What was that you mentioned about not having any time? I couldn't hear you over the facts.
But, I have no idea what I want my side hustle to be!
This is a much more viable thing to say, after realizing that you do indeed have time to start earning money in your spare time from a side hustle.
Let's go back to the definition of "side-hustle" as per The Femme Agenda:
"A side hustle is a passion that you work on in your free time from your job (or schooling) that produces revenue and eventually becomes a sustainable business."
Check out the bolded word. Passion. That's right! The first step to figuring out what you want your side hustle to be isolating a singular passion. Here are the primary requirements of that passion:
It has to be something that you love doing
It has to be something that you can do repeatedly without getting tired of it
It has to be something you're willing to learn about and build on
It has to be something that you have relative skill in doing
A secondary requirement is that your passion has to be able to be monetized. I say secondary because I strongly believe that ANYTHING can be monetized, and if you follow this blog, you'll be on the fast track to building that online business empire you've always dreamed of.
Don't miss a post!
Join our mailing list to receive the latest articles, tips, tricks and advice straight to your inbox!
Thank you for signing up!
Anyway, back to the meat of the matter. If you can find a passion that fits the four requirements then you're good to go! If it fits the secondary requirement as well, then you need to get started on it NOW!
I recently wrote an article for The Huffington Post on 5 online businesses that you can start in college, but trust me the ideas can be implemented by anyone, at any age.
(Leave any ideas you've got in the comments below, or send me them through the contact form if you want me to respond privately. I LOVE helping you guys start your side hustles!)
Now, on to the million dollar question.
How can my side hustle become a full-time?
This is the part that's arguably the hardest for people to visualize. Transitioning from a side-hustle to a full blown business isn't hard; it just takes two things that people think are hard: dedication and determination.
My first "side hustle" (which is writing by the way,) became my full time after a year of doing it on the side. I did it on the side while I was in college, and while I worked too. I've scaled my writing business to the point where I can spend an hour doing something that pays me the equivalent of what I used to spend 8 hours doing.
And that's just one of my side hustles that bring me revenue.
From my personal experience and from those of other entrepreneurs, the point at which your side hustle becomes a "full time" is the point when you're willing to risk it all to make it happen. Jumping all in with nothing but your faith, determination and your desire to make a life out of your passion.
If you've got those three you literally can't fail, because behind every failure is an equal success.
You get the picture right? Guess what, you've only got one life – don't get sucked into the vicious cycle of having your life determined by your paycheck. It isn't cool anymore.
Use the tips above to brainstorm your side hustle, and let me know what you think in the comments below.